8.10.16 – We All Live In a Yellow Submarine Sandwich
Posted by: Birch Rock Camp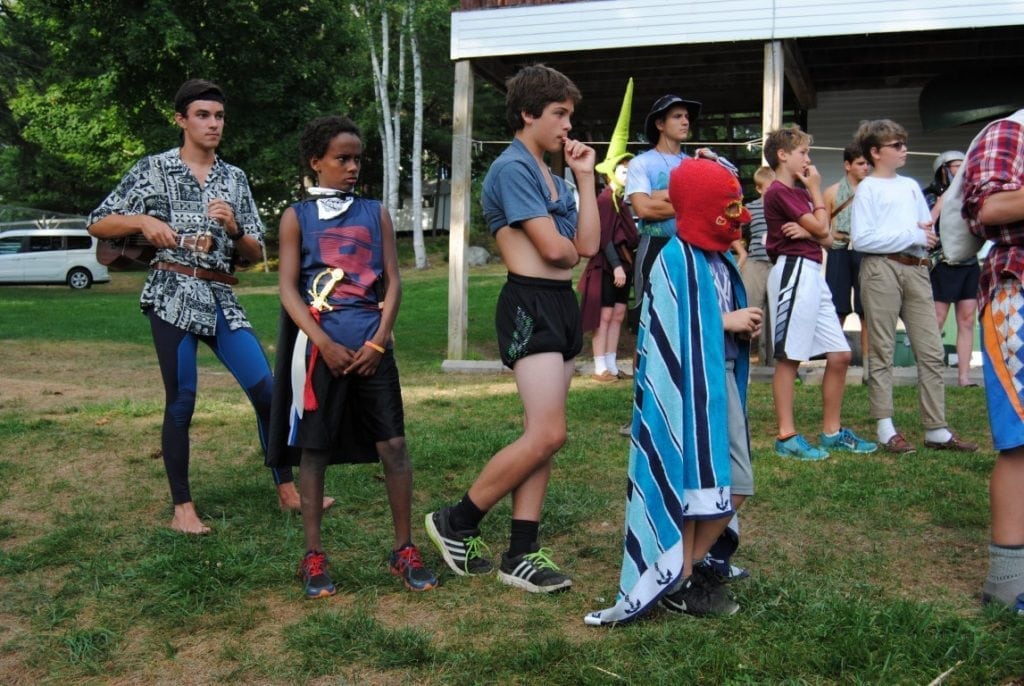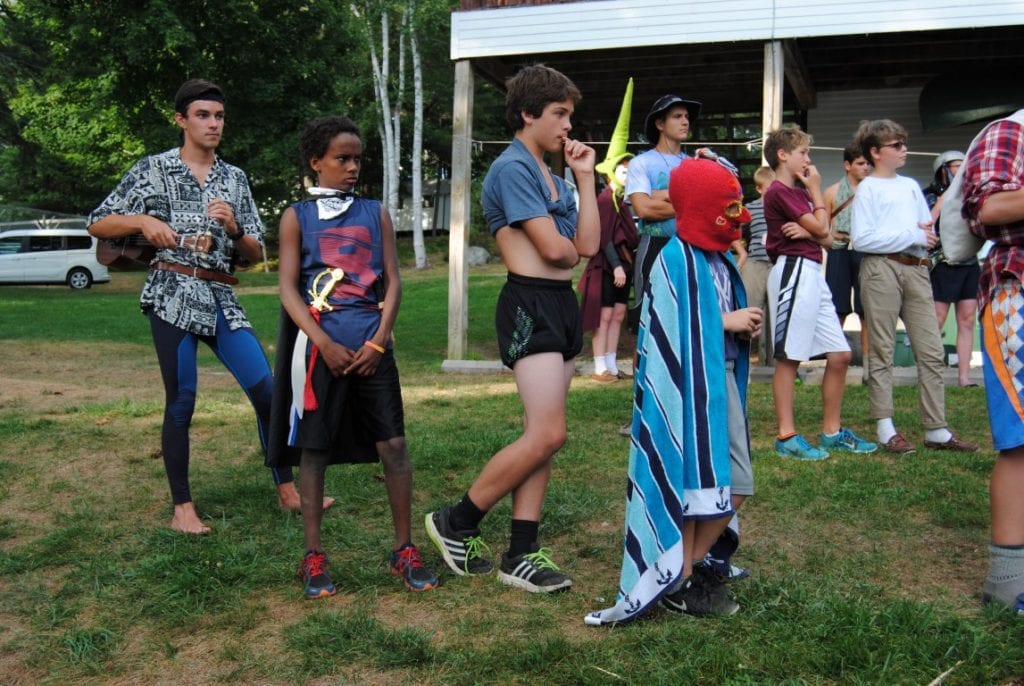 Yep, it's that time of the hot, sticky, delirious late summer when squadrons of honking Canadian geese terrorize the countryside and rounds of "Yellow Submarine" break out spontaneously during lunches of cold cuts on buttered onion rolls. (A thinkpiece on how Birch Rock is in fact like a yellow submarine sandwich is forthcoming.) Things get magically weird around here this time of summer, and we're all the better for it.
But we kept things as normal as possible for as long as possible today. Let's start with the big news:  A whopping six Advanced badges were awarded today to some die-hard full session campers who have been plugging away at them for the past seven weeks. Will M., George A. and Cole D. each earned the highest level of proficiency in Nature, Cole D. added another in Kayaking after retrying and completing the dreaded Gauntlet up the stairs of the Disco Deck, and Luke F. and Kyle P. both achieved Advanced status in Soccer after a half-billion juggles between them over the last two summers.
Not to be outdone, Jake Z. achieved the near-impossible Voracious Reader honor not for the first time, nor the second time, but for the third consecutive year. We're talking thousands of pages here. Kyle P. also rounded out a major accomplishment of his own by reaching Avid Reader level for the fifth consecutive summer. And Charlie S. began his own claim as a budding bibliophile with his first of what will certainly be a slew of Avid Reader badges.
A number of future Advanced badge recipients were also hard at work wrapping up their current endeavors:  After a three-year hiatus from the Archery field, Eli P. strolled in today and casually earned his Bowman badge; Eric T. and Stu W. got down and dirty with some trail building to get their Sr. Mountain Biking badges; Tyler S. served up a Jr. Tennis badge; and Nate H. and Massi E. both got their Jr. Soccer badges;
Elsewhere, Fritz O. taught a worm to play the drums, therefore earning his Jr. Bushcraft badge; Eric T. got his Jr. Campcraft badge while Noah P. and Fritz O. inched closer to theirs by making the World's Largest Fuzzstick; Evan W. planed, glued and sanded a lovely cutting board for his Jr. Woodshop badge; Hayden F. tacked and jibed his way to a Jr. Sailing badge; and Leo K. and Jakie G. each made a beeline across the placid waters of Lake McWain for their Ducks.
All seemed normal throughout Second General and Second Rest up until when Counselor Ed visited each cabin with a declaration of a royal feast to honor King "The King" Ryan and Her Majesty, Nurse Cathy. Everyone donned their most dashing and/or hideous medieval garb for a torchlit dinner in the Grove filled with jesters, jousters, jugglers, and the inevitable, regrettable, no-good bard (not to mention a decrepit hunchback that looked a lot like Counselor Gordon). A parade of duels delighted the feastgoers throughout their dinner, especially the sight of Noah K. having his stomach swabbed with sour cream and held down while Bella and Jinx licked him, and entertainment culminated with the joust between Owen F. and Crossan C. atop the backs of CIT Liam and Counselor Martin. The honorable match quickly devolved into a melee, and the only sure winner in the end was Gage the Gravedigger.
And then, minutes later, everyone switched characters for Spirit Quest, the big 'ol hide-and-seek game around camp where each cabin is tasked with collecting as many spirits (think:  Pokemon GO) of varying point values and returning them to Pat's Pit for points before Swiper the Fox can intercept them. Tonight's lineup featured CIT Liam as Captain America, CIT Ken as the Yellow Teletubby, CIT Jack C. as a sassy toucan, CIT Jack D. as Anti-Camo Man, CIT Henry as the elusive Black Widow, The Gage as Frat Boy, Counselor Steven as Tetherballpoleman, Sebastian T. as easy-to-tackle Jay Cutler, Devon A. as Batman, and Cole Ma. as a camper from a particular-but-entirely-fictional girls' camp. Eagles Nest found the Black Widow, which was worth infinity points, just before the final bell sounded.
But what about Chris K. and Asa K., the Ranger pledges? Rumor has it that they're somewhere between here and the Crooked River, but everything else, I'm told, is classified. A FOIA request has been filed with The King, so hopefully we'll know more sometime between tomorrow morning and Christmas.
Today's Superlatives
Best Bed: Duncan G.
Best Cabin: Hornets Nest
Super Camper: Charlie S.
Tomorrow's Action
The 3rd Annual BRC Frisbee Masters Tournament; last-minute scurrying for badges; the hottest day of the summer without a doubt; Banquet!; tomato juice; the big reveal of the 2016 plaques and staff shirts; coming to grips with camp being almost over
---