Emergencies
In the event of a family emergency, please contact the Camp Director. If you will be away from the numbers you have designated for contact, please let the camp know of your plans and itinerary. The parent/guardian of any camper requiring serious medical attention or hospital care, will be contacted by the Camp.
Homesickness
Click on the button below to view and download our Homesickness Guide.
Meals and Nutrition
The Head Cook takes great pride and care in the quality and quantity of food each camper receives daily. Meals are carefully planned with strong emphasis on variety and overall nutritional value. Most meals are served family style at the camp in order to place emphasis on table discussion and appropriate table manners. If there are any dietary restrictions, please let our cook and nurse know.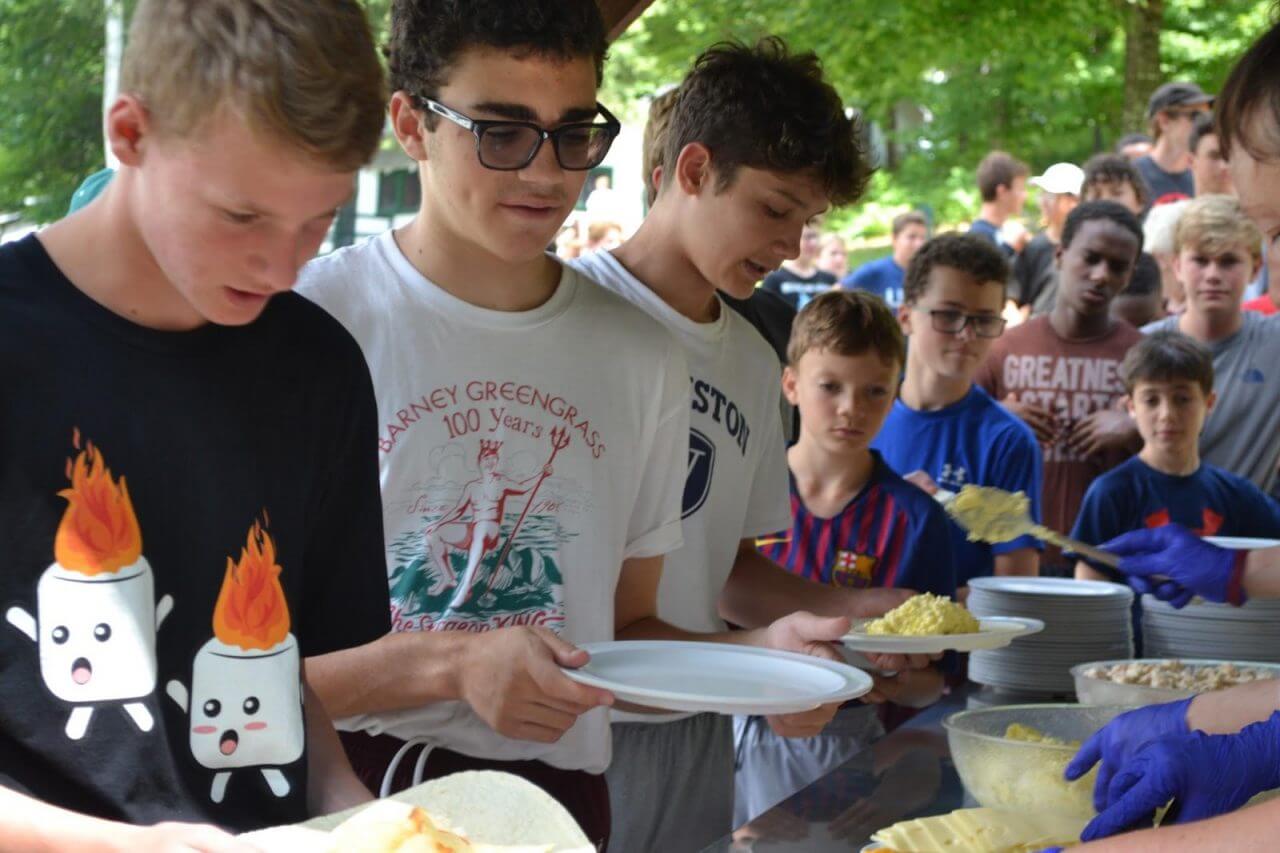 Breakfast
Breakfast is served family-style by our senior camper waiters in the main lodge with hot cereal, yogurt, fresh fruit, and juice to start the day. The main breakfast course varies from blueberry pancakes, scrambled eggs, breakfast burritos, to our famous Rock McMuffins.
Lunch
Lunch follows rest period, and weather permitting, we gather for the buffet-style meal under the tall pines in the grove. Campers make their own sandwiches with sliced meats, cheeses and toppings. Some of the campers' favorite lunches include grilled cheese and tomato soup, shepherd's pie, and Taco Tuesday and Pizza Friday. Giant salad bowls brim with fresh mixed greens and vegetables.
Dinner
Our evening dinner requires each camper and staff member to be freshened up with a camp shirt neatly tucked in as we gather for a more formal dining experience. After an active day, boys look forward to hearty fare like lasagna, pot roast, chicken cordon bleu, or beef stroganoff. All entrees are accompanied by freshly steamed vegetables, salads and homemade breads. If a camper enjoys his first helping, there is always plenty for seconds. Daily desserts include fruit crisps, birthday cake or the hands-down favorite, ice cream sundaes.
Meals at camp are about festivity and tradition as much as they are about food. Every week a camper is assigned to a new table of eight boys and two staff members. The weekly rotation insures that the whole community gets to know one another, and campers of all ages take part in polite conversation (while mastering knife and fork and sitting up straight, napkin in lap). Table manners are alive and well at Birch Rock!
Awards
We feel strongly that positive cues and recognition are the cornerstone of a quality camp experience. Each day the BRC Community "Shares Success" and acknowledges both individual and group achievement. Additionally, activity charts in the main lodge record each camper's progress in a specific skill, program and contribution to the community as a whole. At the end of each session, each camper will receive special recognition at our Award's Ceremony with badges for his personal Birch Rock Banner!
Evaluations
Each Birch Rock Camper will receive an evaluation from his cabin counselor with a message from the Camp Director at the end of the season. Additionally, the camp will provide an opportunity for each camper and his family to evaluate their summer experience at BRC. Please feel free to contact the Camp Director throughout the summer if you would like some immediate feedback.