The Hills are Alive with the Sound of Leaf Blowers- July 7th Blog
Posted by: Birch Rock Camp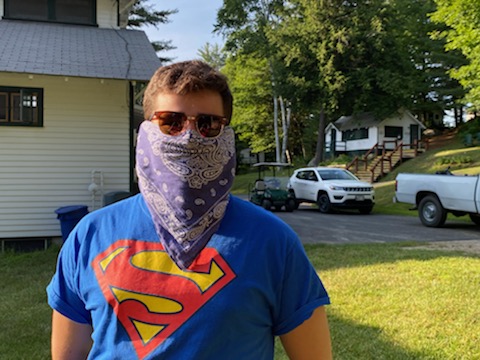 'Twas yet another beautiful day at the rock. A calm westerly wind graced the hillside this crisp morning. Breakfast sandwiches on croissants warmed up the groggy counselors and, along with lots of coffee, energized them for the laborious day ahead. 
As opening day draws near, the hillside is fine tuned. Final touches are made not only to get the approval of Janice, but also make sure the campers are happy. "The Green Team" got back to it today working on Adirondack chairs, dusting off the cobwebs, reaching every nook and cranny, and coloring the chairs to match the lush forest beside them. The other team (unnamed) raked and leaf blowed paths.
It is Taco Tuesday!!! These delectable treats, courtesy of Jorge, were just as good as the fresh, ooey gooey chocolate chip cookies that followed.
Counselors worked through the afternoon and were rewarded with a lifeguarding session in the lake.
After a hearty meal of pork and mashed potatoes, evening activity was an assortment of field games.
The beautiful sunset gave way to an awe-inspiring starry night.
And don't worry, The Green Team will be back at it again tomorrow.
Auf wiedersehen, goodbye
-Gus Tringale
---