The 2020 Halsey Gulick Award Presented to: Rich Deering
Posted by: Birch Rock Camp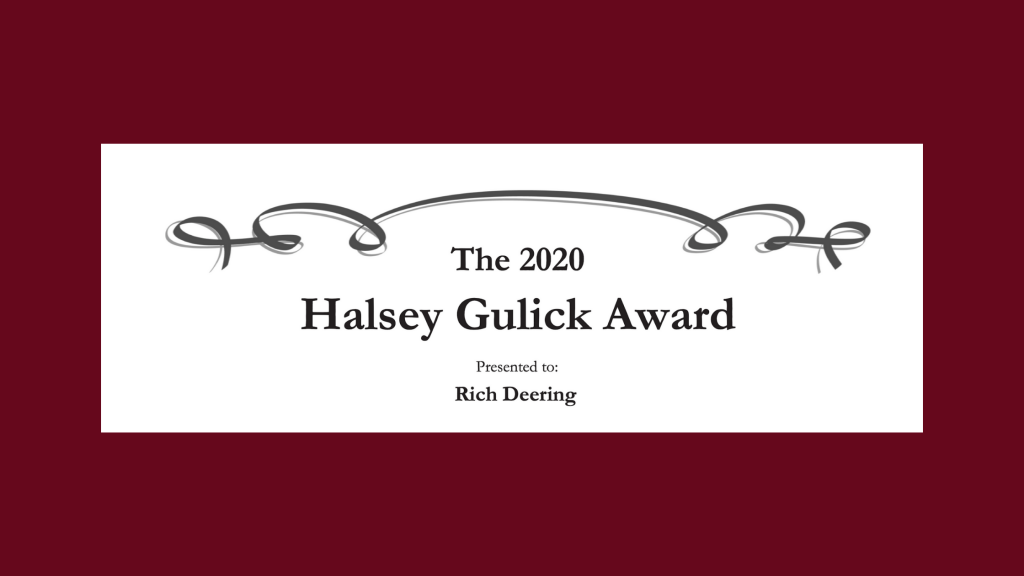 This year's Halsey Gulick Award recipient receives praise for virtually every aspect of his role in Maine youth camping. He has made myriad contributions to Maine Summer Camps as a former president and ongoing board member. His commitment to connecting with and mentoring peers never wavers. He is a listener first, yet always contributes wise and insightful input. In all he does, he offers energy, enthusiasm, and the kind of care one colleague describes as "a warm hug wrapped in a wide smile."
Over the years this recipient has been steadfast in bringing all these qualities to both MSC and MYCA. As a former Board President his efforts included reorganizing MSC's committees, infusing new energy to the Education Committee as well as providing clearer purpose dormant committees, a colleague describes. Additionally, he has served on the Maine Tourism Council as well as ACA, New England's board of directors. Indeed, his advocacy for Maine camps, along with his unfailing support for colleagues and friends, are exemplary of the positive, collaborative nature of MSC. At the same time, he is a successful realtor, no doubt sharing these same qualities.
This is an individual who checks in with his colleagues, inquires with care as to how they are doing and offers genuine and ongoing support. A former board president adds that our recipient was the consummate cheerleader throughout her tenure, checking in, sharing feedback, and writing notes of gratitude and praise.
As one colleague says, he "is someone who always makes you feel like you are the most important person." His generosity extends to his committed mentorship of camp owners and directors, with a focus "on 'the soul' of a camp, and what one is trying to achieve through camping."
Our recipient has traveled a path from Birch Rock camper to now Birch Rock Camp's Executive Director. As another colleague points out, he has spent most of his summers on the shores of McWain Pond. This summer he stepped in as camp director, another act of collegiality and generosity.
Yet this individual's "life journey at Birch Rock Camp is a just a portion of his dedication to the camping movement," another colleague says. "He is there for others, always willing to discuss issues, support others, create ideas and he gives the credit to everyone except himself," she adds. "He lives the motto of BRC: 'help the other fellow' and shows us all how it can be done."
Caring and generous, collaborative, and committed, our recipient is described as "a steady flame of the fire that spreads the value of camping, the importance of connection with peers, the power of people joining together."
He has "pervasive love" for camping and represents "the essence" of this accolade, says a decades-long friend and colleague.
For all his countless contributions and his devotion and dedication to Maine's camp community, the 2020 Halsey Gulick Award is presented to Birch Rock Camp Executive Director Rich Deering.
---