Up, Up and Away!- July 11th Blog
Posted by: Birch Rock Camp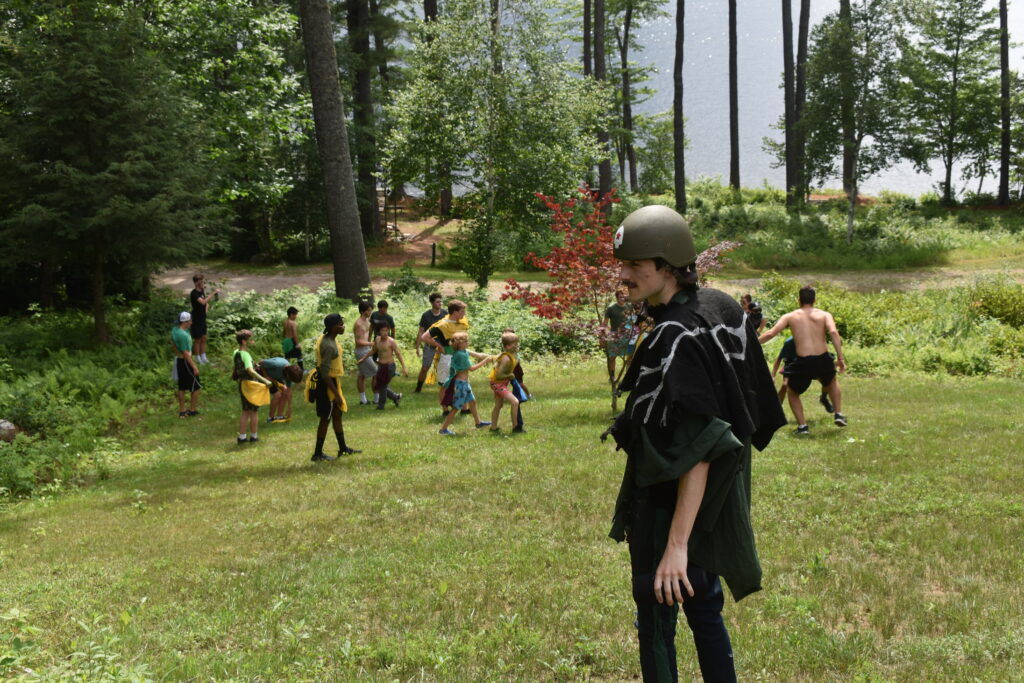 This beautiful Sunday day brings the very best of BRC with milestone celebrations!   Our first Decade Vest for our brother SEABASS  & a very special birthday serenade for our beloved Nurse EMME!  Congratulations to you both!  And not to be outdone, our first Seals ( length of the lake)- 2.5 miles) swim dutifully accomplished by Campers ALEX & RUSTAM.
After an eventful second week of trips, special events and lots of activities going at warp speed, Head Counselor Musciano took pity and pleasure in allowing us an extra half hour of sleep and much needed recuperation.  What a glorious day for us to enjoy a morning of showers, letter writing, and an all out scrub down of cabins, personal items and cleansing the soul.  The CITS swept the roadways and the staff rallied together for some small game break-outs throughout the main campus.
Sunday Dinner (served at lunch time) was an all out American Thanksgiving feast.  Turkey, stuffing, smashed potatoes, asparagus and Jon's wonderful spinach salad with fruit & feta.  We topped off the meal with a talented trio of staff gleefully singing THE CANDY MAN ….in recognition of Sebastian Tringale's 10 years of longevity and prosperity @ BRC.  As the words say it all:  "Who can make the sun shine…….Sebastian can!!"  And the thunderous cheers of applause touched the very heart of our most popular senior staff member!  Congrats, Seabass…….we love you!  To your success!
We closed one meal and turned our attention to the camp's Sunday activity upon request – War Games.  In reality, it's all about strategy, resources, championing civility and working together to capture one side from another.  General Jeff and his crew lead a very prolific and well-organized charge throughout the whole camp.  As the boys know how to say: " A good time was had by all".
After a much needed general swim and afternoon rest period, we huddled back to the outside dining area to celebrate our Florence Nightingale-  HAPPY BIRTHDAY, Emme.  Serenaded by the musical Boat House Boys band, we all joined in the delight of blissful joy for Emme.  Thanks for caring for us, and we wish you all the joy and good health!
Pivoting post dinner, we gathered for the perfect sunset splendor at the Birch Rock for our Sunday Tree Talk.  Our community topic of the evening:  The Unity of BRC and You.   Campers Noah, Sam, Charlie; CIT Theo and Counselor Nick led the charge, as Rich & Mike facilitated an evening of collective story-telling, personal triumphs, and opportunities for us all "reach for the stars."
Camper Ben literally sent us off to bed with his trumpeted taps calling it a fine day for a close of a successful week as we turn the camp calendar to the end of a outstanding week.   Good night, BRC!
Written by Rich Deering
---