Two More Whales Today?!?- August 11th Blog
Posted by: Birch Rock Camp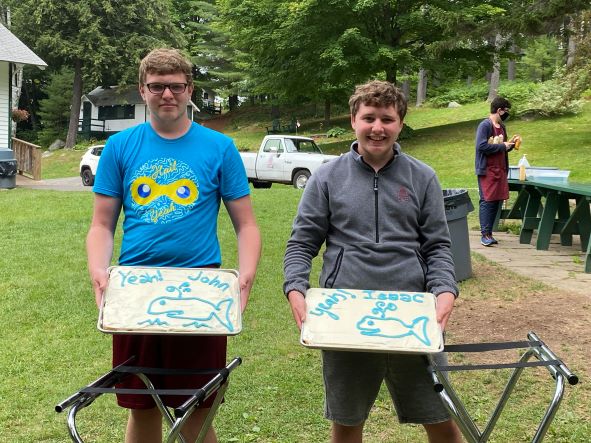 Wow time sure has flown by this summer! Today was the last full day of activities here at camp. We all awoke at 7:30 this morning eager to earn those final badge parts. We had two whales in the water this morning – John F. and Quinn C. The weather in the morning was slightly overcast with a slight drizzle but the whales persisted and both John and Quinn finished in good time and good attitudes. The whole camp raced down the hill to cheer them on as they finished.
The amount of badges that were earned today had to be some sort of camp record! We had David A, Brady K, and Hanyu Z earn their Junior Artist badges. Fritts J earned his Senior Sailing badge. Sam K earned his Advanced Windsurfing badge. Lincoln and Turner H earned their Advanced Baseball badges. Ben A and Lincoln H swam their Loons, and Henry C swam his Seal. James S and Nate H earned their Bowman archery badges. Luis G earned his junior boating badge the GOB. Trip E earned his junior Campcraft badge. Whoa!
For the final evening activity of the summer the whole camp trekked up the hill to participate in a rousing game of Quorum! The game ended with a goodnight sunset song for our neighbors the Plates. 
As the 2021 summer is coming to an end, we would like to recognize all of the hard work that was put into earning badges during this session and the first session. Whether it was a badge earned today or earlier in the summer, all the campers have been working hard to accomplish their goals and have all had great attitudes while doing so. We look forward to enjoying our final days at camp together! Until tomorrow!
Best Cabin: Owls Perch
Best Bed: Brady K
Super campers: Quinn C and John F
Written by Peter Brewster
---