7.18.16 – Batten Down the Hatches!
Posted by: Birch Rock Camp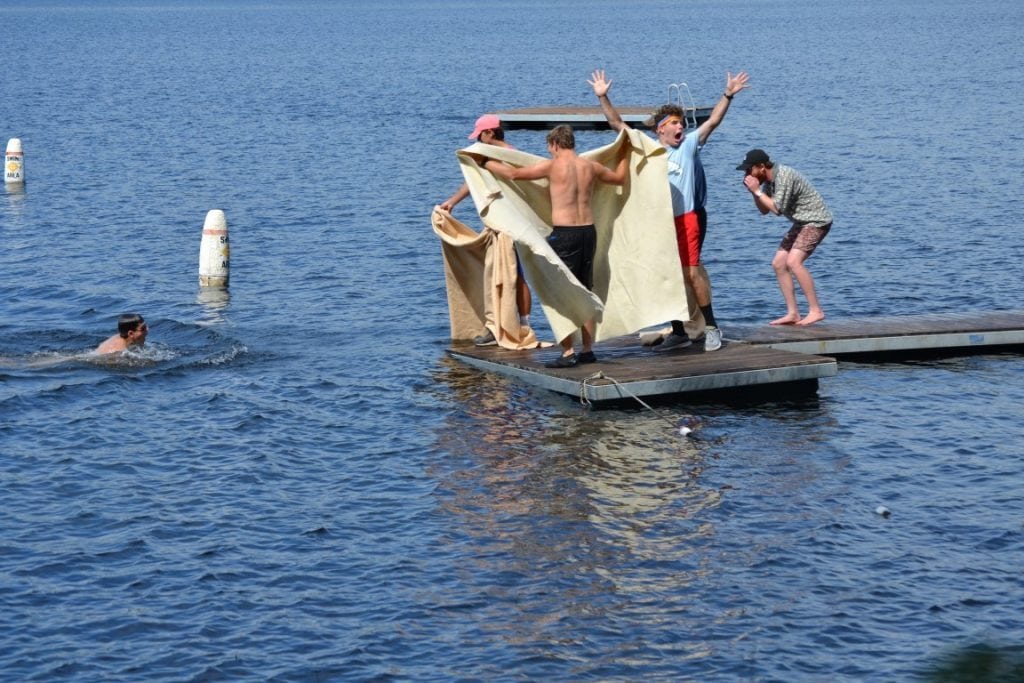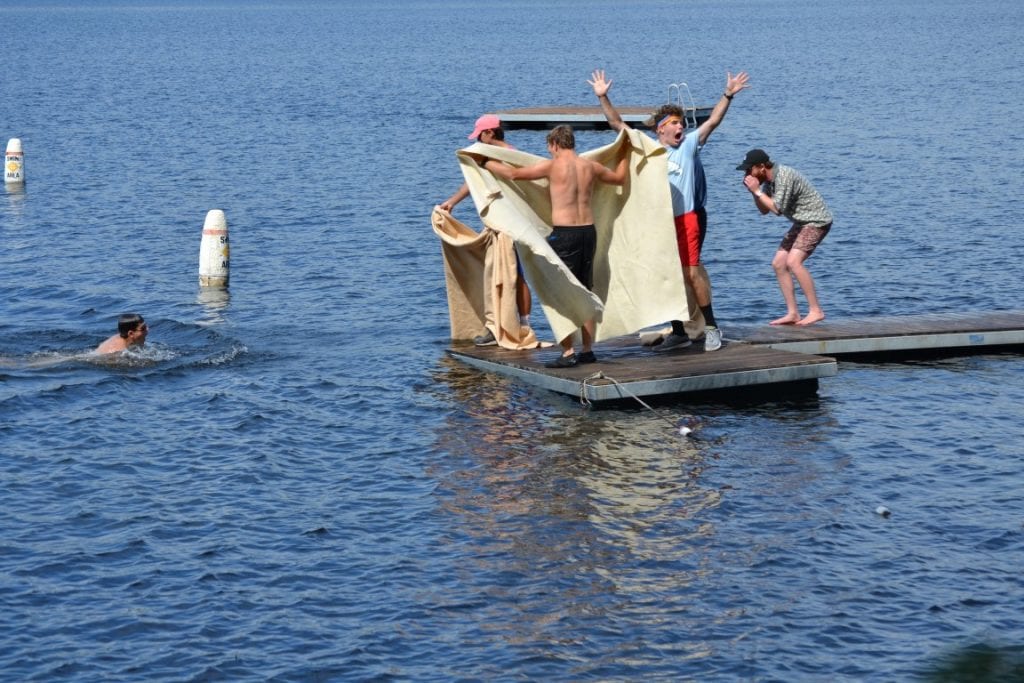 If Mother Nature threw us a curve ball low and outside yesterday, then today she followed it with a fastball high and inside — the 'ol brushback — leaving no choice but to duck out of the way. The BRC Doppler Radar 8000 lit up like a Christmas tree around lunchtime, prompting severe weather warnings all around and the cancellation of the afternoon's activities. Luckily, Captain Nemo activated the WeatherDome just in time and the nasty weather just skirted us. Around dinner, the skies cleared and Evening Activity was given the green light, but, out of nowhere, right in the middle of Orb, the skies darkened and growled a warning to head back indoors. So it's another BRC Cinema night featuring The Lion King.
But we still squeezed in lots of stuff before the weather turned weird. Early this morning, long before the wake-up bell, before the loons had even gone to bed, Rich and Head Counselor Bob roused Sebastian T. from his peaceful slumber in Cabin 8, tossed him in the water, hopped in the rowboat, and began a circuit of Lake McWain in the misty predawn fog with him in hot pursuit. A few hours later, he arrived at the other end of the catwalk to complete the 5 1/2-mile lap and become the first Whale finisher of the 90th summer season. Per the custom, Sebastian received a double Birch Rock Cheer at dinner and Whale Cake for everyone. Rumor has it he will be the first of many in the coming weeks.
Meanwhile, the rest of the campers went about their activities this morning and plugged away at more badges. Aidan A. earned Jr. Baseball honors; Julian W. and Theo T. both shot for their Daisies in BB Guns; Tyler S. and Michael K. became Yeomans in Archery; Luke L. earned his Jr. Campcraft badge; Anthony K. got his Knife Rights; and Michael K. reportedly made a superb fuzz stick in his quest for the same.
Also, the second Focus Group of the summer went out today with a random sampling of Beavers and Wolves (Lev T., Charlie T., Charlie S., Lukas F., Eitan S., and Benjamin G.) in order to register their opinions of the hike up Mount Tire 'em and the wild blueberries that grow atop it. We also received excellent feedback regarding Melby's and disco music, both of which earned high marks.
The mountain biking trip to Vermont and the Cubs overnighter at the Crooked River were postponed today and will regroup and head out tomorrow. The forecast looks fantastic — sunny, mild and dry. It's about time, eh?
Today's Superlatives
Best Cabin: Chief's
Best Bed: Coach
Super Camper: Sebastian T.
Tomorrow's Action
Ducks, Loons and Seals galore!; sun; 50% less sweat; tacos and taco accessories
---