7.29.16 -An Outstanding Opening to Our 90th Jubilee
Posted by: Birch Rock Camp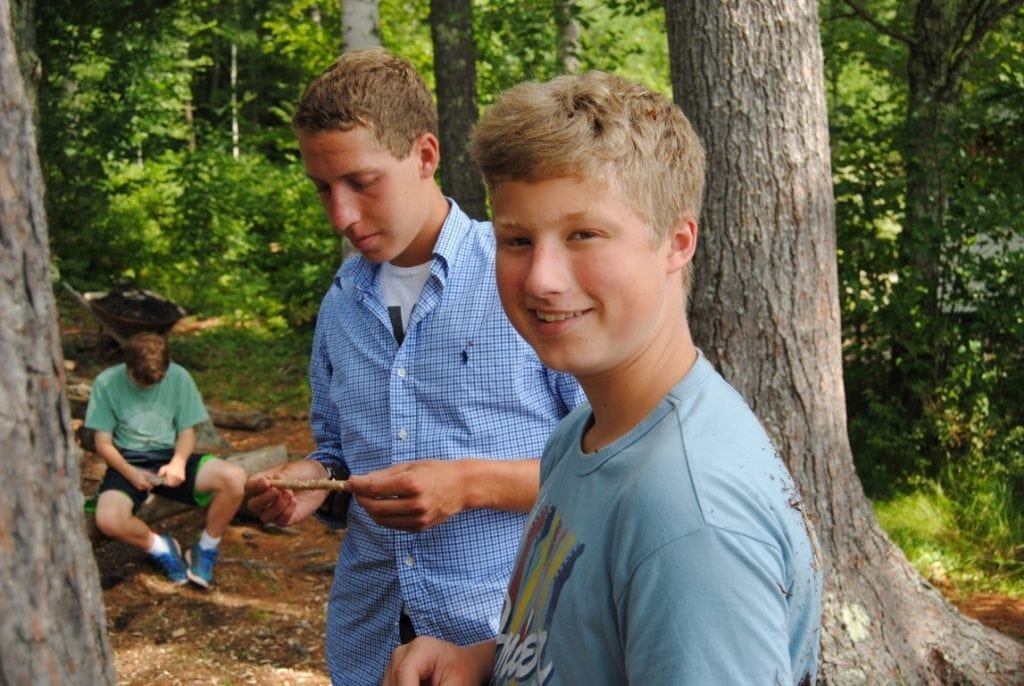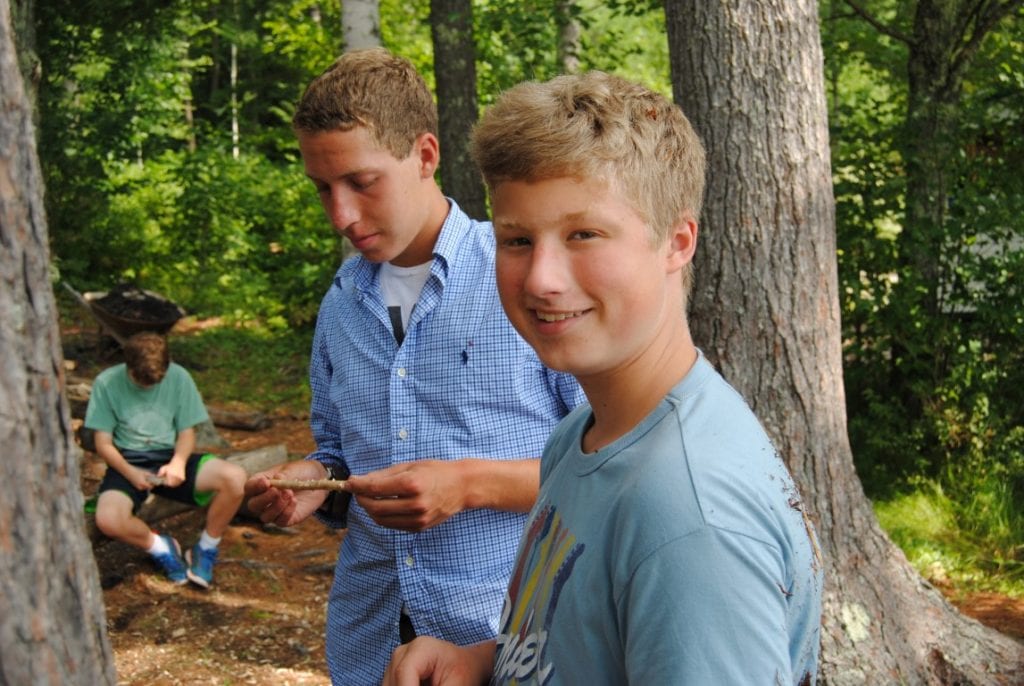 Wow! Woah! Jeezum Crow!
All of these phrases were used to grasp the essence of today's action, and did so perfectly. After absorbing copious portions of eggs, bacon, and spuds, the camp went to work on their badges, goals, or even 90th anniversary preparations. Swimmers bustled back and forth across the lake through the ripples of Stu's fantastic whale. Aidan S. and Campbell H. quacked through their ducks and Standish C. swam his loon, leaving a shimmering wake behind him. Nearby, Stu W. and Eric T. paddled their boats in various circles and lines topped off by a round of "That's What Makes You Beautiful" to earn their Junior Kayaking badges.
Pizza Friday filled our appetites fully. Although the allure of five, six, and seven pizzas was strong, even too strong for some, no injuries were reported. Midway through lunch, the Bears (Owls Perch, Pete's Palace, and Cabin 8) all returned from their various trips. Some brought tales from the Rangeley Lakes, others from the 4,000 footers of the White Mountains, and still more from the testing camps of the Junior Maine Guide certification process. These potential JMGs will discover their results on August 11th at the badge ceremony.
The scorching afternoon brought a whole new set of tricks and stunts. Stu W. and Cheilang L. both embarked on a treacherous leap from the Cabin 6 rock. While Stu did not get off without a couple of scrapes and scratches, up-and-coming star "Chillin'" escaped the dangers of the feat.
On the waterfront, a full on naval war came and went. The kayakers and canoers decided to settle some 'beef' on the waters of Lake McWain. Capsize after capsize, T-rescue after T-rescue, and still no victor was declared. The only fatality, however, was counselor Max's socks left in one of the crafts when the great ship went down.
The evening brought the best Shepard's Pie cooked in the Tri-State area in 20 years. Following the meal was the announcement of the evening activity. But when there was none, not Coach, Peter, or the Man with the Eyes Sewn shut to announce the evening activity, BRC was left with Gordon to proclaim the game. Camp was surprised to find out, however that Gordon had some talent for the field. He summoned the spirits of Earth, Wind, Water, and Fire to a whirling and chaotic game of 4 Core.
While camp prepared for the battle of the elements, the reporter caught up with some of Birch Rock's greats to find what they were most excited for. Director Mike highlighted tomorrow's campfire, as some of the original skits of camp return. Sea Dragon conqueror Matt C. was excited to bring back people and their memories from the earliest days of camp, while Master Sailor Erik Joelsson could not wait to see the vast array of Birch Rockers, old and new. Birch Rock guru Don Miguel said, "I don't really know what is going on tomorrow, but I hope everyone's got their stuff together. Calm, cool, and collected. Tout va benne." Alumni Director Rich Deering was generally excited to celebrate faces from the earliest days of camp, people who have come and taken a break from camp, and for the warmup to Birch Rock's 100th. To celebrate the past, present, and future. And as Birch Rock begins to wind down, we reflect on the meaning of tomorrow. To honor Birch Rock, past, present, and future.
Today's Superlatives:
Best Bed: Will M.
Best Cabin: Eagles Nest
Super Camper: Muktar M.
Tomorrow's Action:
Birch Rock Camp's 90th anniversary celebration! Birch Rock legends, Yesterday's celebrities, Birch Rock's future, Skits and sketches from Birch Rock's yesterday, The Original Zambini Brothers, Analogy Cowboys, Stories of Buck Hard's time, Chillin' challenges cycling champion and BRC Mtn. Biking founder Jonas Mikolunyas to a time trials showdown, upcoming boy band Ollie & The Dogs sing happy birthday to BRC, The ghost of Birch Rock Past pays a visit, Man with the Eyes Sewn Shut sits at honorary table, Whale tales, Birch Rock doubles in size for a day, Lobstah, Lobster, and Lobester, old faces, new friends
---