July 31 – Mimic Monday
Posted by: Birch Rock Camp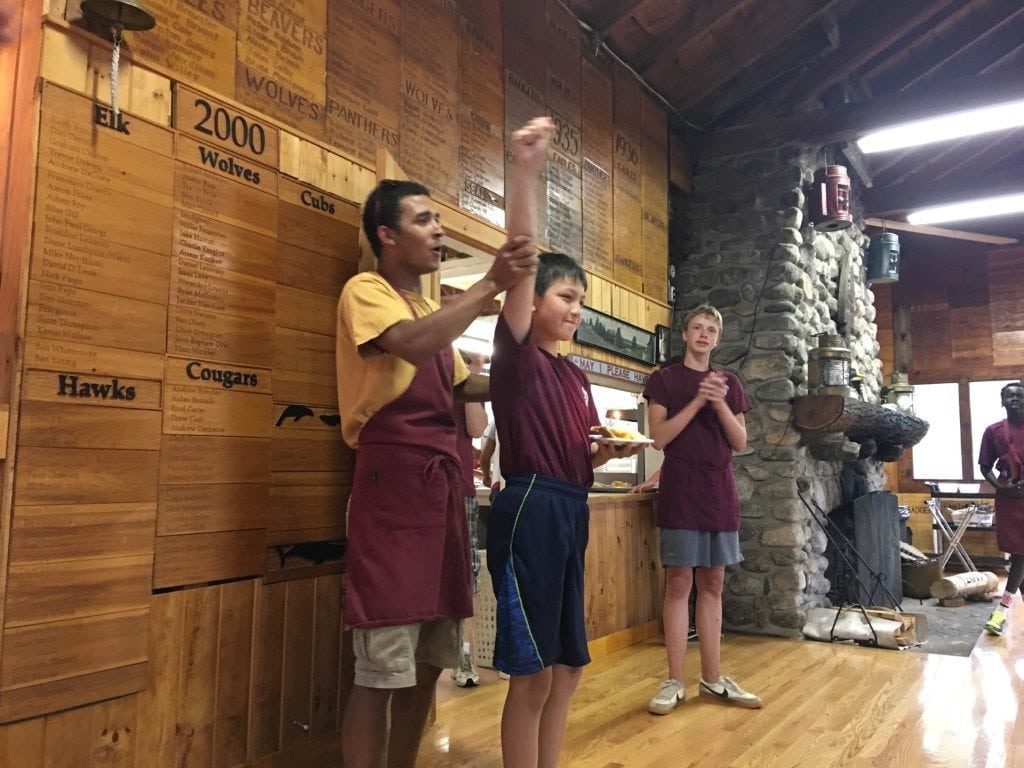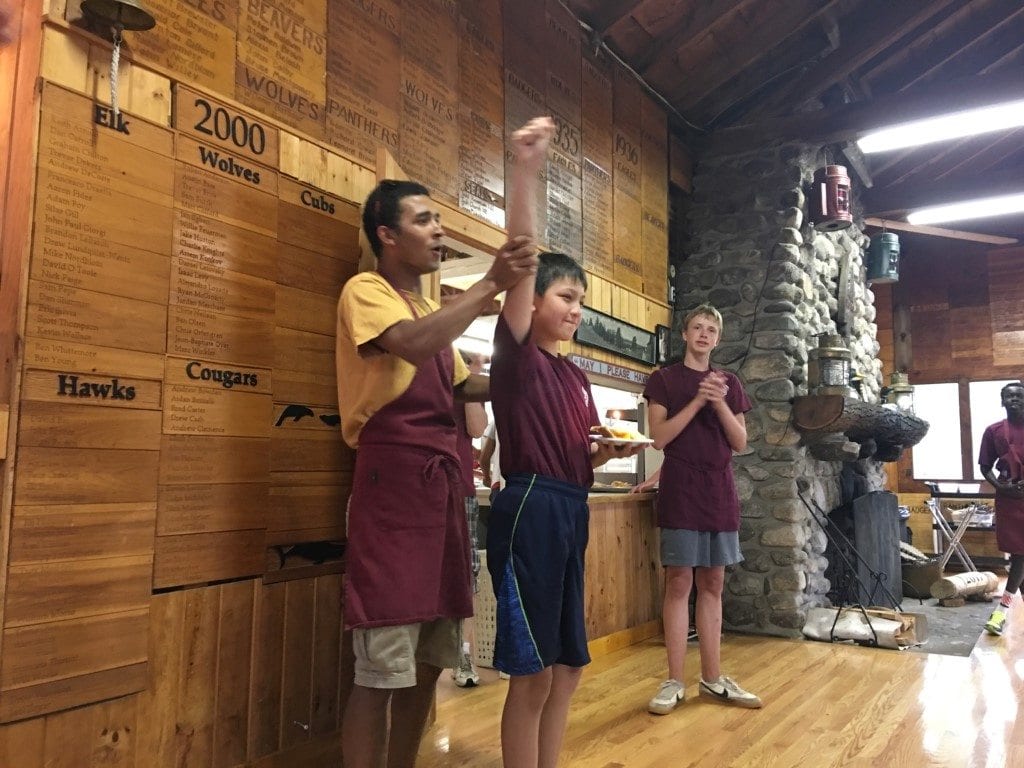 The day started off with a bang as staff members warned campers of shadowy creatures called "Mimics" hiding in our trunks! Liam V. even emerged from a trunk as a Mimic for an announcement, leading to the day being referred to as "Mimic Monday". As the first day of Week Six, campers and counselors alike were eager to bring the crazy and avoid a slump. Judging from today, I'd say we succeeded!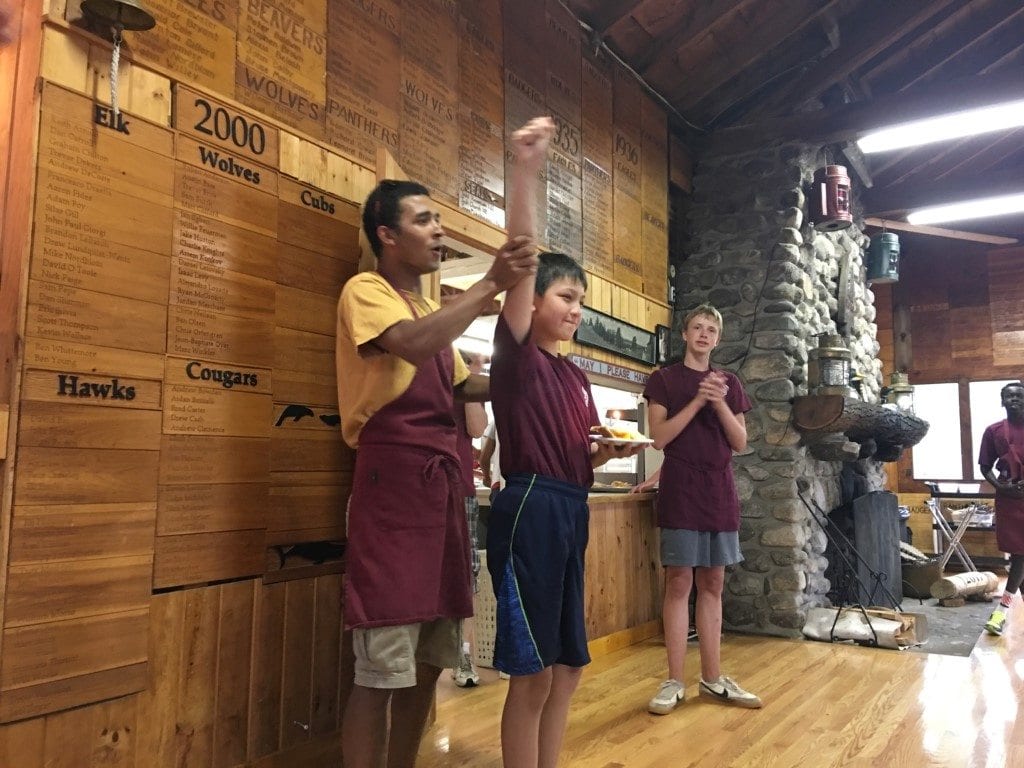 The Moose headed out this morning to face Flagstaff and the Presidential's mountain range, while camp fell into its regular routine. Cheilang L.'s rigorous Duck training continued as he swam triangle laps in the deep end, while fellow cabin mates Gus T. and Hunter G. swam their Seals from opposite ends of the lake. After high-fiving each other at the halfway point, our boys powered through the rest of the swim and got a standing, rousing Birch Rock cheer from the Lodge! In other news, Nathan S. received his Junior Volleyball badge after developing an impressive overhand serve, and AJ C. got his Knife Rights after whittling the fuzziest of fuzz sticks. Great way to start the day!
Lunch rolled around and dished out some kickin' kielbasa, accompanied by the kitchen's famous mac n' cheese. The afternoon was a blast, as basketball held a five-on-five scrimmage that saw the breakout performance of deep 3 shooter, Matt St. The Decathlon raged on as campers finger fenced on the driveway, leading to the highly anticipated Haiku competition. The current leaders are Lukas F. and Jackson M., although Sam K. and Eyob G. are poised to make a charge for the title.
In other news, preparation for the BRC Triathlon has begun in Upper Camp. Cooper D. has been shaving minutes off his swim time at every instructional, and Andrew C. has been running at least three miles on the field every day. The competition will be fierce this year, and hotly touted athlete Jack F. has said "It's gonna be any man's race out there this year". Eastern coverage will begin on NBC at 9:00 p.m next week.
After a busy afternoon that included a deep end general for Upper Camp, the boys gathered at Flagpole and cheered for inspection winner, Owl's Perch. As the flag was lowered, a huge bald eagle swooped across the treeline! Campbell H. reported that it was "the most patriotic thing that's ever happened". To reenergize from a day of activity, Chef Jon cooked some delicious chicken parmesan and spaghetti to carbo-load our boys. Finally, the evening ended with a high stakes game of Fox in the Henhouse, where a deep pass by Counselor Jack to Chase B. got the skins their final cone!
A great Monday has set the tone for the rest of the week, and with two whales going out tomorrow, who knows what could happen? Stay tuned for more!
Best Cabin: Owl's Perch
Best Bed:
Super Camper:
Best Rolling Stones Album: Exile on Main Street
---