Begging to Swim to Beat the Heat!- July 27th Blog
Posted by: Birch Rock Camp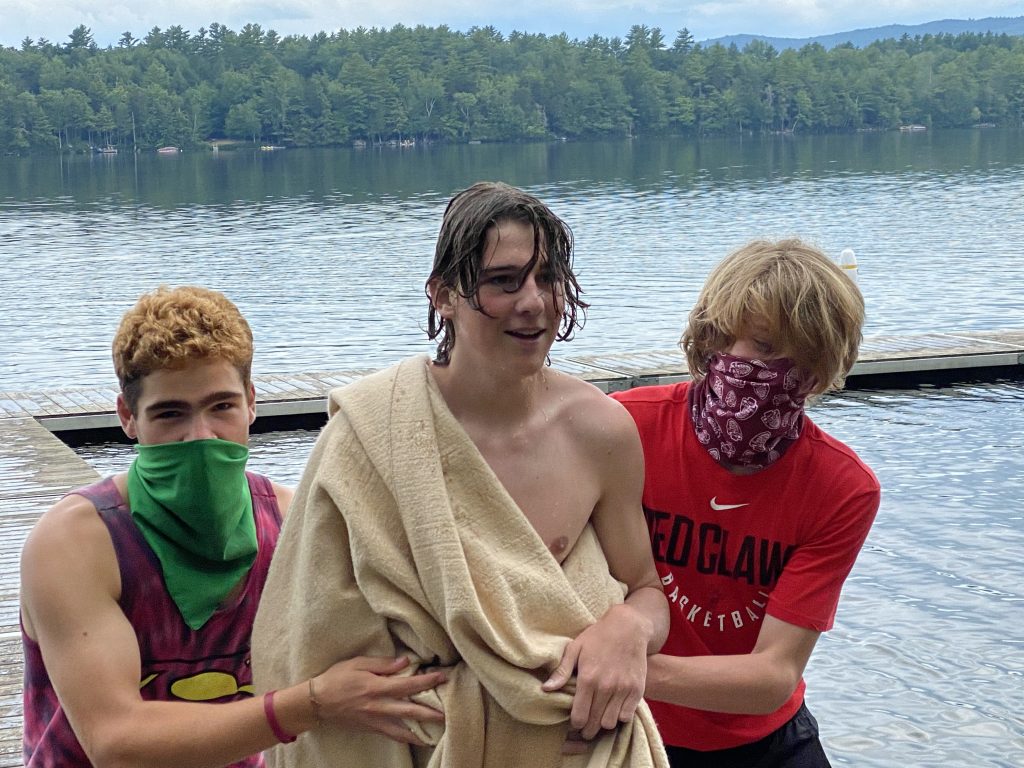 "Good mawnin' sweetheart" the campers were greeted by a rather bearded lady as they entered, cabin by cabin, through the doors of the BRC Diner. For once they had the choice of what they wanted to eat for breakfast, choosing between the classics of pancakes, French toast, cold (or hot) cereal, and eggs any way you want (and even a special omelet from our new cook Jorge, they were delicious by the way). Accompanying this delicious meal the campers were able to have a hot beverage of their choice, and although they talk smack about how much they need coffee in the morning most opted for the hot chocolate (with whipped cream of course). The day then started as normal, but boy was it a hilltop classic scorcher (skaw-chah)! The waterfront was packed and people made any excuse to "accidentally" fall in the lake during pre-instructional swim stretches. Truly, the air was so hot and humid that the tomato soup for lunch seemed downright lukewarm (although it definitely wasn't, thank you Jon you're amazing). One person in particular, Mr. Jed K. of Sugar Hill, NH, was so uncomfortably hot that he decided to hop in the water and just swim. And swim. And swim some more. This gentleman just couldn't cool off and swam around the whole gosh-darn lake before his body temperature finally came down below 120F (no fever of course, just as a tractor heats up from hard work so does our resident farm boy Jed). So, in short, Jed completed his whale! There was much celebration and of course a delicious whale cake. On top of that Joaquim B. dared to stare into the inky depths of Lake McWain to complete his seal in a fantastic time. At this point in the summer junior, senior, and advanced badges are starting to fly off the shelves, keeping announcements very interesting, and leaving most hands sore by the end of dinner. 
The main event of today, however, was evening activity. Gus(sy Wussy) Tringale led the campers down to the cradles where they donned PFD's, noodles, and Epsom salts (or maybe that was just sand) and floated while reading a rather dry academic journal of the benefits of sensory deprivation tanks followed by a meditative exercise. By suspending their bodies in water they felt (and experienced) nothing, allowing them to delve into their mind and find true peace without the distractions of the outside world. The campers were silent, on their own, for a whole 20 minutes. Can you imagine? This may have been the most rejuvenating water related event of the summer (besides the rain, of course), and everyone left feeling relaxed, calm, and with a new perspective on the frantic frenzy of the outside world. Jonah K. even felt the effects long after the deprivation tank was over, giving counselors and campers alike the "1000 yard stare". He seemed to be looking at you, around you, and through you all at the same time. I dare say his third eye might now be open. 
Namaste everyone.
Best Cabin: Buzzards Roost
Best Bed: Noah P.
Super Camper: Jed K.
-Jack Duggan
---