Here's Your Letter- July 26th Blog
Posted by: Birch Rock Camp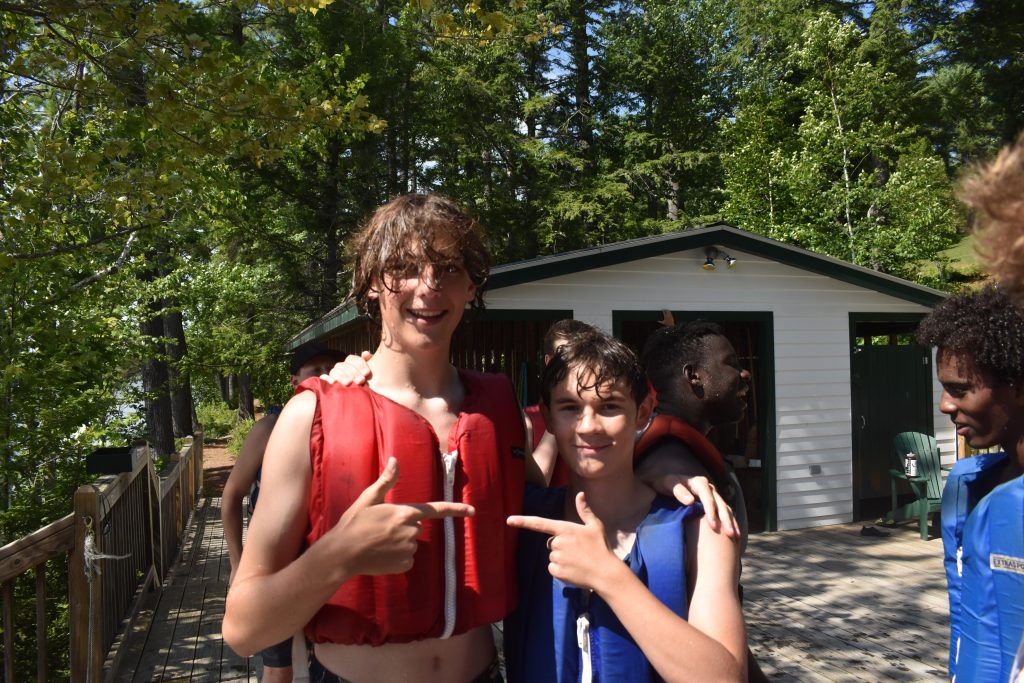 WHAT A DAY!  There is no where better in the world to spend a Sunday than at Birch Rock Camp.  Whales, letter writing, decade vests, and so much more!  Today was certainly one to remember.
For the first time in a while, Charlie wasn't the only one walking around camp at 5:00am in the morning.  MWA was up early to depart on their three week adventure.  Campers woke up, made their beds one last time, and were on the road by 5:55am to Monson, ME, where they started their adventure into Maine's most remote wilderness.  To all the parents out there: we did hear from them, and they made it safely to their first campsite (despite some pretty grueling rain)! 
Next up, whale time.  Brian and Matt woke up Theo an hour before the first bell with a quiet "Let's go Swimming!"  He responded quickly with "Just Us?"  After informing him that they would have a rowboat, it clicked!  A quick stop at the kitchen for some fruit and yogurt brought them to the waterfront where the crisco was depleted, and the swim began.  After making the exhausting trek three quarters of the way around the lake, they arrived at the infamous inlet.  Brian yelled to Theo, "Do you want to do it?"  and with a look of pure grit and determination, Theo looked up at the boat and said "You know it."  Front crawling through the weeds he made his way around the inlet, and back up the shoreline to Birch Rock where the whale bell rang and the whole camp welcomed him home.
Next up: letter writing in the grove – a true highlight of leadership camp and exercise in recognizing and reaching out to those who matter most to us all.  A quick jaunt back up the hill brought everyone to the picnic tables where they wrote to their loved ones (You should all be receiving them soon), and took time to reflect on what those relationships mean.
Sunday Dinner was served outside (for the second time ever?) and was followed up by one of our favorite afternoon activities: the Water Carnival!  Teams of senior campers competed against each other in a swamped canoe race, water polo, diving for stuff, and of course…synchronized swimming.  It was a tough call, but the mystery judges declared Team 2 the winner of the final event, however, it was not quite enough to give them the points they needed to take the crown.  Congratulations to the Blue Angels for taking home the victory!
But wait…someone was missing.  Campers realized quickly that Noah P. was nowhere to be seen.  Had he snuck off?  Run away?  Did the spirit get him?  No.  He was doing his WHALE!  Just after Sunday dinner Jack Duggan grabbed Noah and brought him down to the waterfront.  Luckily, there was just enough crisco left in the can for one more whale.  He jumped in the water, and off they went!  Round the lake they went until they made it all the way back to where they started.  What's that?  Another whale bell?  The whole camp descended on the waterfront yet again to welcome Noah back.
That should have been enough for one day, but that's just not how we do it at leadership camp.  Twenty days, and not a moment to waste.  Supper was served outside, and was followed by a fan favorite tree talk: warm fuzzies.  Rather than spewing the same old story that campers have heard year after year, the CITs took a new approach to warm fuzzies, and introduced them in a way that honored and inducted our newest decade vest member: Gus Tringale. The CITs discussed the importance of expressing gratitude, and the different ways to do so.  This of course, led to a performance by Sebastian to honor his younger brother, and then testimonials from the entire staff about how dedicated Gus is to Birch Rock, and how much we all love him.  Gus is an integral part of our staff at Birch Rock who is always eager to help out and do more.  Musc put it perfectly when he said "I just can't believe this is only your first year on staff.  I feel like you've been here forever."  We all feel that way, and are so happy to call you our brother.  Congratulations, Gus!
Finally, we used the last few minutes of our day together to write and distribute our warm fuzzies, with the understanding that this is something that should happen on a regular basis, and continue into the off-season.  Gratitude has been a major focus of leadership camp this summer, and we have absolutely loved getting to share our thoughts with one another.
Cheers to another restful night, and our final week of leadership camp!
– Brian Farley
---