Pirates Visiting Camp?!?- August 3rd Blog
Posted by: Birch Rock Camp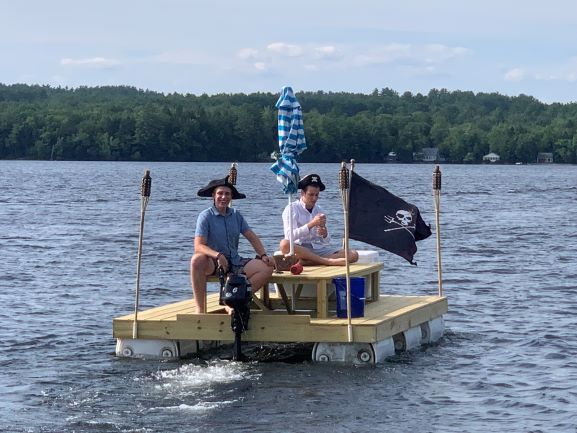 I wake up. It's 6:45 in the morning, and there's rustling at the foot of my bed. Josh R. is switching positions with the CIT Jonah, donning Jonah's signature hat and Jonah pulling on Josh's iconic Berwick school t-shirts. When I asked what was going on, they said "it's a social experiment". I was satisfied, knowing that even before the wakeup bell the day would be filled with shenanigans.
At midday, the Otters returned from their trip! Each member upon returning participated in a trip report where the campers tell the camp about their favorite parts of the trip. William K. was quick to say "SMORES!" while Gabe E. was proud to have slept through the night despite twigs snapping all night outside of his tent. It was clear that a good time was had by all.
For lunch we had Jorge's special tacos! They were amazing!!! After lunch, Dancing Owl brought the five Junior Maine Guide participants in front of the crowd to announce their results. Surprisingly, four out of five members of the group passed, including Isaac F., Quinn C., Aidan S., and Sam K., and all did so with flying colors. Never in Birch Rock's history has four out of five members passed the Junior Maine Guide program, a week-long wilderness skills test for ages 14-18. Evan W, while not passing the required tests was honored by Dancing Owl in front of the camp for maintaining an excellent attitude throughout the pressure filled process. Most importantly, the JMG director included a hand-written note remarking on how helpful, positive, and well-mannered the Birch Rock JMG team was. An incredible effort by all five gentlemen!
In the afternoon, snack came back… by sea. Perched atop a buoyant picnic table with a motor attached to the rear, Pirate Jared made an appearance. With the help of First Mate Sam Cluggish, he served ice cream sandwiches and other delicious snacks to the campers.
Tomorrow, the Bears (15-16 years old) are embarking on trips to the Pemigewasset Wilderness and Umbagog Lake. Stay tuned!
Best Bed: Evan C.
Best Cabin: Quartz
Super Camper: Brayden Z.
Written by Sebastian Tringale
---