The Hills of Sunset Splendor- August 4th Blog
Posted by: Birch Rock Camp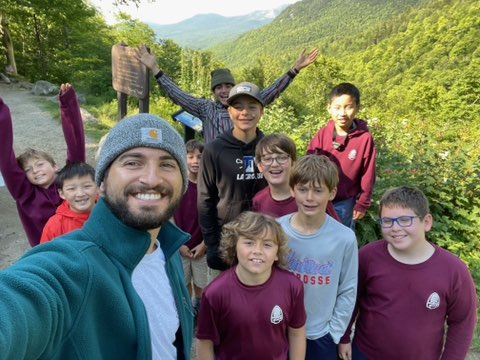 It was another beautiful day here at Birch Rock Camp! We awoke to an incredible breakfast of oatmeal, French toast and cinnamon rolls. After tidying up our cabins, we were ready to get the day started! A couple badges were earned during the morning – Gabe E. finished up a beautiful sunset painting in the art room, thus earning his junior artist badge. Stephen and Noah T. earned their Yeomans up on the archery range too.
We had a ton of ducks (the first long distance swim across the lake) go out today in the morning and afternoon – Jack M., Brady K., Brendan S., Jamie C., and Angel F. all completed the feat in great time.
For lunch we were treated to a delicious meal of Rueben sandwiches and salad. It was Jeffrey's birthday today so we were also able to enjoy chocolate milk and blondies for lunch dessert. Nick F. and John R. competed in Staff Trivia during lunch announcements – who was the first woman to win a Nobel Prize?
Marie Curie in 1903 in physics.
At flagpole before dinner tonight it was announced that we would be having our first cabin night of the session – all the cabins grabbed supplies from the kitchen and cooked hot dogs and s'mores over fire pits around camp. Cabin night concluded with probably the best sunset we've had so far this summer. As we approach week 7, we're making sure to enjoy every moment in the coming days – until tomorrow!
Best Cabin: Munn
Best Bed: Liam B.
Super Camper: Chad H.
Written by Peter Brewster
---