Badge Ceremony! – August 10th
Posted by: Birch Rock Camp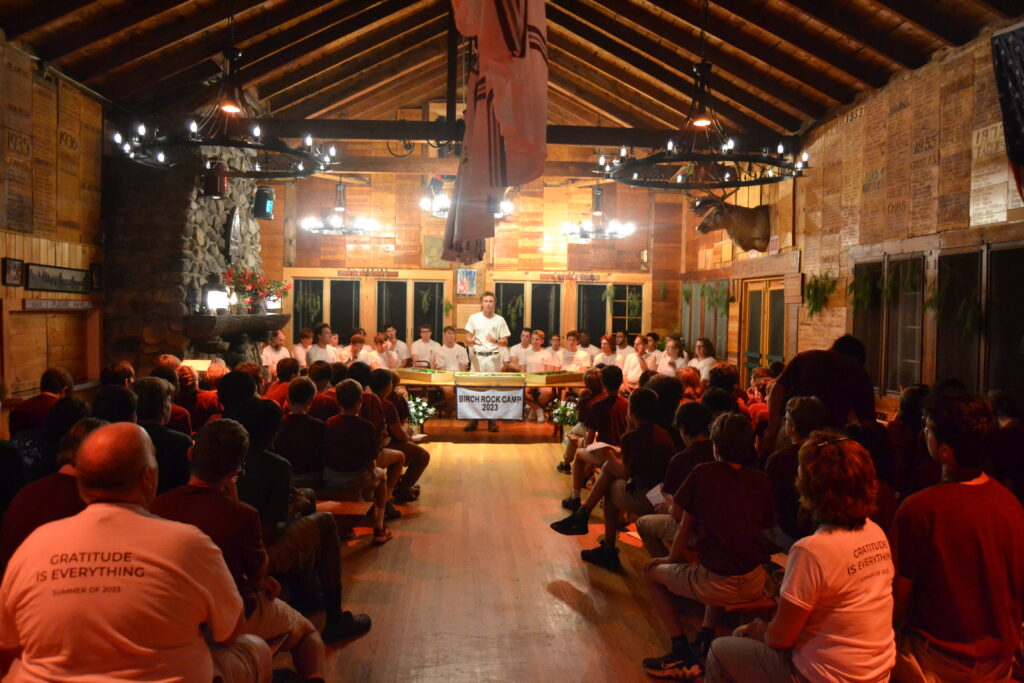 Wow! What an amazing second to last day at Birch Rock. This morning we finished up the last two activity periods of the 2023 season – badges were flying out as everyone was trying their hardest to finish up last minute badges. We also had a ton of long distance swims go out today. Spencer C, Jimmy M and Alex Y all swam their loons. Leland N swam both his loon and duck today!
Right before our first rest period this morning, MWA returned! 8 of our campers and 2 staff members (Erik Joelsson and David Colasin) have spent the past 3 weeks exploring the Maine wilderness. The trip consists of backpacking/hiking, canoeing, white water rafting, rock climbing, and sea kayaking. The trip was a success and a good time was definitely had by all – welcome back MWA!
In the afternoon, our first year campers ventured out into the woods on the 'Lycopodium Hunt.' The campers and staff members searched for the plant in the woods across from camp – it will be used in our goodbye line ceremony tomorrow night. While our new campers were in the woods – everyone else was busy back at camp getting the lodge ready for the final banquet! The banquet was amazing – the lodge looked incredible and the food was even better! Thank you Jon and the kitchen!
After an amazing dinner, we ended the night with badge ceremony. One of my favorite things about Birch Rock, is how we celebrate everyone's accomplishments so well. It was awesome to see everyone come together as a community and cheer on each other and all that we've accomplished this summer. At the end of the ceremony the 2023 plaques were revealed, they look amazing!
With only one full day of camp remaining we are looking forward to making the most of it and finish strong. It's been an incredible summer and we will make the most of our last full day. Until tomorrow!
Best Bed: Roberto M
Best Cabin: Zig House
Supercamper: Chad H
---