BIRCHSTOCK!!! – August 9th
Posted by: Birch Rock Camp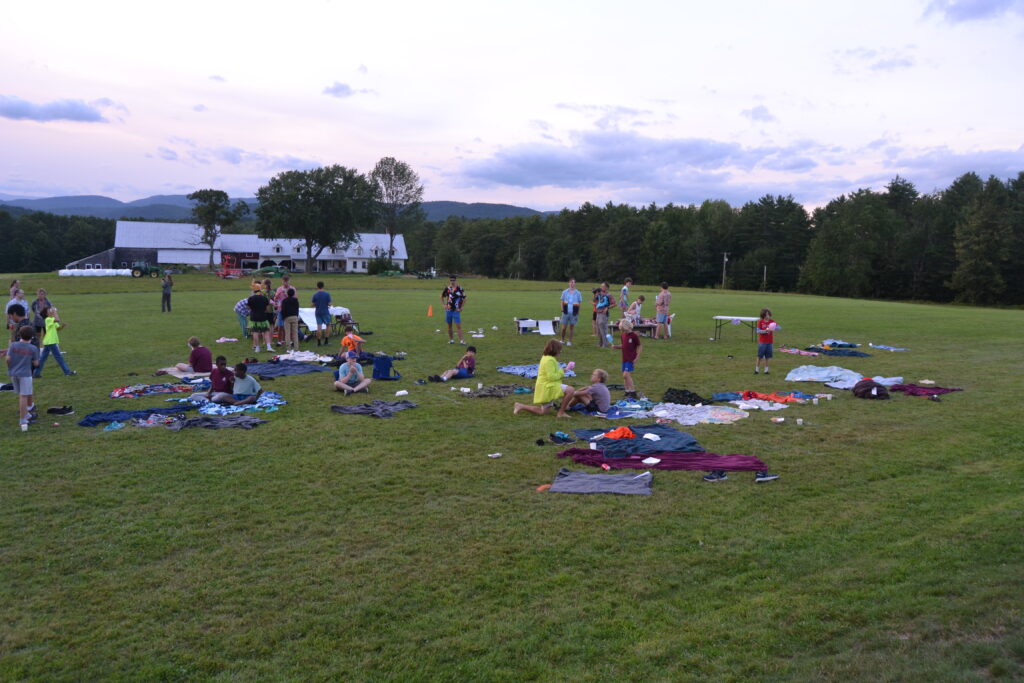 Today's activities started with wake up and flag pole where campers were informed that Rainer D. was on his whale swim. The entire camp then did an echo around the lake shouting "swim Rainer swim." Afterwards, everyone proceeded inside the lodge to enjoy a very delicious breakfast. Today's first period activities were not held inside the lodge, as we got the opportunity to experience a day with no rain which allowed us to return to normal activities. First period ran very smoothly, as the field was dry enough to resume field activities as well as the water was calm and clear enough for water activities.
Second period started and was going great when we heard a whale bell, resulting in the entire camp heading to the water front to cheer on Rainer as he completed his final stretch swimming toward camp. He was able to complete his whale in great time which was later announced at lunch. Lunch was a surprise today as the camper was shocked when they heard it was taco Wednesday. Lunch announcements had a bunch of interesting badges being issued as Charlie C. earned his junior sailing badge, Mario P. his Junior wind surfing, Ethan N. and and Brady K. their senior trip badges, Trip M. his Yeoman badge and Michael M. his bowman badge
The afternoon activities operated in normal proceedings with some of the counselors and other members of the kitchen staff were moving stuff up to the basketball court to prepare for Birchstock '97 for the second year. The entire Camp prepare their outfits for the evening activity as the moose age group return from their trip and joined the fun. There was an evening flagpole followed by everyone heading up to the field in an orderly manner. There were performances from campers as well as counselors. The entertainment was started with counselor John Flannery playing a drum solo followed by John F. and one of his campers William who did a Duo, as John was on bass guitar William play drums there were tons of other jobs as well as poems that different campers wanted to share. There was a bunch of special performances from John who is one of the cooks and a bunch of other kitchen staff. There was then dinner which was being served on the field So the campers as well as counselors got to enjoy their delicious food as well as a lovely music being played. There was a drink station set up called Duran's devious drinks which had three special ingredients causing campers to create a big line as they would wait for a chance to choose what they would like in their drink. There was a very beautiful rendition of music by The Boathouse boys which included counselor John Flannery, counselor Lleyton and campers Riley W. and Leland N. There was a bunch of other fun activities going on such as face painting, candy guessing game, where you can guess how many seats there are in a jar etc. Campers were also amused by the cotton candy machine being run by Bryan Farley. The final two activities of the night where a poem done by turtle, the camp nurse and a final performance by a band called bats in The Boathouse which comprise of Theo T., Daniel R., Joe B., and Lleyton P.
Written by Daniel Rowe
Best Bed: Eton M.
Best Cabin: Chipmunk Hole
Super Camper: Rainer D.
---