This Veterans Day, We Fondly Remember Birch Rocker LT. Peter B. Haas
Posted by: Birch Rock Camp
This Veterans Day, we fondly remember Birch Rocker Lt. Peter B. Haas— true gentleman, champion swimmer and proud United States Marine.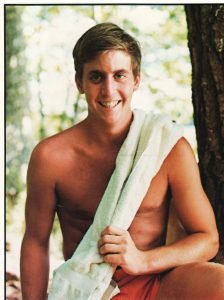 Pete flew Black Hawk helicopters until his tragic death in a training accident in 1982.
Originally from Mountain Lakes, New Jersey, young Pete took to Birch Rock Camp like a loon to Lake McWain. He rose through the ranks from camper to counselor to waterfront director. After graduating from Thiel College in Greenville, PA, Pete entered the Marine Corps. Each summer, if not on active duty, Pete would spend his military leave volunteering at Birch Rock. "This place is like a fantasy island," he would quip. "You can be anyone you want to be and do anything you want to do with a little imagination."
Pete is legendary for his positive attitude, unique creativity and rollicking approach to motivating campers and staff. Everybody knew when he commanded the waterfront—his voice created a thundering reverberation up the slope from the lake. If you were one of the lucky lads to be part of his morning swim class you would hear him announce: "Ok, you handsome brutes, let's get fired up with some calisthenics and show 'em all what you got! It's time to take off into the waters, as swimming is a serious business. Let's go for the gusto!"
Pete had an extraordinary ability to connect with others and in his very brief twenty-five year life, his friendships were far reaching and impactful. Pete would always send out dozens of holiday cards with summer camp pictures attached. If it was your birthday, a long-distance call would be dialed "person to person" to ensure you knew the connection was complete and personalized.
Although Pete left us far too early, his spirit of service continues to guide and inspire. Countless Birch Rockers and friends have contributed over the years to The Lt. Peter B. Haas Campership Fund, which provides financial assistance to a quarter of our campers.
With your gift in honor of Pete, Birch Rock will keep doing what we do best, and what Pete did best—giving campers awesome experiences that build character, confidence and love of community.
In the spirit of Help The Other Fellow,
DO YOU KNOW? Why is Veterans Day celebrated in the United States each year on November 11th? It was first called Armistice Day, marking the formal end of the First World War at the 11th hour on the 11th day of the 11th month in 1918. In 1954, the federal holiday was renamed Veterans Day to honor all men and women who have served in the U.S. military.
---