Autumnal. A Word that in the Summer is Used for Slightly Cool Days- July 30th Blog
Posted by: Birch Rock Camp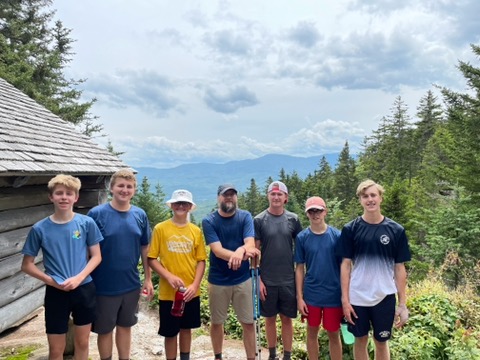 ****See underneath the day's photos for an MWA update!****
It's nice to be back in the Blog Newsroom. Over the deafening sound of printers the size of rooms printing thousands of copies of yesterday's issue, I'm getting a head start on today's
Fresh headlines.
At midday, camp welcomed back the five campers who took part in the Junior Maine Guide (JMG) program this week. Quinn C., Isaac F., Sam K., Aidan S., and Evan W. all ventured to Oquossoc in Maine's Rangeley Lakes region to be tested by Maine Guides on every wilderness skill — axemanship, wet day firemaking, canoeing, navigation, and so much more. Although they left camp unsure of how they would perform at testing camp, they returned today beaming and appreciative of what they had learned and how they had done. The campers do not find out their results until later on in the summer.
This afternoon, the wind kicked up and sustained a cool breeze with low humidity throughout the day. To inject some WordPower here, the conditions were autumnal. The consistent winds gave many of Birch Rock's sailors an opportunity to practice drills out on the water with Abe, one of Birch Rock's sailing instructors. They simulated racing conditions in preparation for a sailing regatta tomorrow against three other camps in Waterford: Fernwood Cove, Waziyatah, and Wigwam.
During dinner, one of camp's strongest members of our community was awarded his Decade Club vest. Bob Dow, known around camp as "Dancing Owl", teaches nature at the fish hatchery during the weekdays and is a science teacher outside of camp. Mike shared that, when Bob came to Birch Rock ten years before, Birch Rock's nature program was reinitiating after twenty years of closure. His presence at Birch Rock brought the important art of observing the natural world to becoming a staple to the Birch Rock program. Congratulations, Bob!
For evening activity, Peter staged a Rock, Paper, Scissors tournament between four activity groups for the right to choose their evening activity. Rhodey V. won the tournament for the otters, but Johnny B., Fritts J., and James C. all valiantly championed their group's cause. Each activity group braved the evening's dry gusts to enjoy games, a healthy dose of heckling, and a glowing sunset.
Written by Sebastian Tringale
UPDATE FROM MWA:
Today, the MWA crew passed the State line and (re)entered Maine on the Appalachian Trail. Although last night and this morning were wet and chilly, everyone is in good spirits and looking forward to more sun peeking through the clouds. 

Our first adventures consisted of rock climbing in Acadia National Park, scaling the faces of Otter Cliffs, Otter South, and Bubble South. We also spent a great morning on the water, fishing for mackerel, pollock, rockfish, a mussel, and quite a few lines and sinkers. We missed sunrise on Cadillac Mountain due to the rain, but enjoyed the sleep instead. 

The next few days promise lots of vertical feet, some vistas, and a whole lot of trail mix.


---