Ahhhh… Sundays like these…- August 1st Blog
Posted by: Birch Rock Camp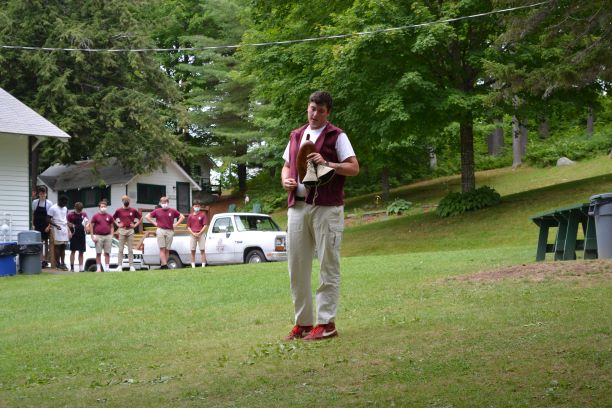 Sunday began with a rejuvenating late (8:15) wake-up. We proceeded to congregate in the greater lodge area, as we do on most mornings, discussing the formidable Sunday crossword, reminiscing about the skits from the previous night and guessing what the hot cereal or afternoon activity might be. After flagpole, a wonderful, 'stick-t'ya-bones' meal was served, to fuel us for a deep, hour-long Sunday-morning cleanup.
After cleanup comes showers/freetime. This week's theme for showers was galactic robot sanitation, thanks to the shower barons, Cole M., David C., and Joe B.. Outside of the spaceship, Magic the Gathering, tetherball, and tennis were the main attractions. The CITs did a very thorough job sweeping the driveway in record time. In the meantime, Josh H. and Trent G. escaped the pandemonium and did their seals. Free time concluded with a rest period, and weekly letter writing.
After a 'to-die-for' Sunday Dinner, we honored a very special member of our community, and latest inductee to the Decade Club: Seth Brewster.
Little Seth has been a member of the BRC community his entire life, but began coming to boys camp in 2010. At camp, he has found his way, becoming a unique individual. He is a brother, a shoulder to lean on, and a beacon for Biroca. Seth's energy, character, and humor is always refreshing and brightens up any conversation. Rich Deering shared the story of Seth's duck, where Seth was able to show perseverance and defeat the odds. Thank you, Seth, for all that you bring to our community, not to mention the years of outstanding plaques. You are a true Birch Rocker. Here's to ten more!
Out of the blue, Agent 1-9-2-6 interrupted announcements. His mission was to find who the best codebreakers and detectives at camp were. He then announced, for the first time this Summer, we would be playing ESPIONAGE (the crowd goes wild). Espionage is a game where there are clues in color coded capsules (there are three teams: red, blue, and green), hidden around camp. Each clue is a question which corresponds to a crossword puzzle, or a highlighted box, which is used for a word-scramble finale. Teams can trade information, but the first team which guesses the final word/phrase correctly wins! The Hafner brothers were bounty powerhouses, collecting the pinnies of anybody who crossed their paths. In the final moments, the green team guessed, "master spy," the blue team guessed, "spy master," but the red team came out on top with the correct answer: "spymasters."
To conclude the week, following a 'heavenly' Sunday supper, we had our weekly Tree Talk, down at the Birch Rock.
Tree Talk's theme was "gratitude." Counselor Gus Tringale shared a story about the psychology behind training your brain to be especially gracious of every possible thing in life. Others practiced by telling camp what they were grateful for. Community, nature, and all of the little things in life are all worthy of a moment of gratitude. Whether in a journal, verbally, or in our minds, gratitude helps us see the positives in life. Gratitude continues the flow of positive energy, and, if shared with somebody, gratitude can make somebody's day.
Thank you to all who make Birch Rock happen, to all who send us to Birch Rock, and to all else in the Birch Rock community. You are the Rock.
Best Bed: Jamie C.
Best Cabin: Pete's Palace
Super-camper: Teddy M.
Written by Theo Tringale (CIT)
---